Have you heard of
Overstock.com
?
I'm sure you have. With Christmas fast approaching, it's hard to turn on the TV without seeing their employees singing "O, o, o! The big, big O! Overstock.com!"
I was asked if I was interested in writing a post about
Overstock.com
and supplying my readers with a couple discount codes.
Um . . . yes, please!
I've been fortunate enough to have purchased products from
Overstock.com
before. That site has really come in handy when I'm looking for something specific and just can't seem to find what I'm looking for anywhere else.
For instance, FH and I had decorated our bedroom around a duvet I had gotten from IKEA years ago. It was red with a white, modern foliage print.
The problem was, that we have a queen-size bed, a queen-size duvet, and FH steals the covers. So I decided the way to solve our problem was to buy a king-size duvet, so even if he pulled on the covers, I wouldn't be left out in the cold (literally).
Unfortunately, IKEA no longer made that duvet cover. So I searched for something similar to replace it. The
only
place I found anything even close was
Overstock.com
. It was not that expensive (like $50 I think. Not too shabby for a king-size
duvet cover
and 2 coordinating pillow shams) and shipping is a steal ($2.95, all. the. time.)
I would have tried to make the bed up properly so it looked nice for the picture, but I'm feeling lazy right now. Anyway, you get the idea.
Overstock.com
has also come in really handy when I was looking for
patio furniture
.
Yes.
Furniture.
On the internet.
I had been looking for a wooden bench and a couple of wooden chairs to put outside in place of the old plastic stuff the previous owners left behind.
I looked for
months
and didn't find anything. Finally I checked
Overstock.com
. I found a beautiful teak bench. They were also selling a set of 2 teak chairs that matched. I don't remember the price (since it was about 3 years ago) but I do remember being pleasantly surprised at how affordable they were. And of course, the whole order (remember, I was buying wood
furniture
) was $2.95! What a steal!! With shipping like that, who wouldn't look into buying furniture online?
Even though I'm not looking for anything specific right now, I do still periodically check the site to dream about the things I'd love to buy someday (like after Christmas, and after the wedding . . . when money returns to the house). I adore beautiful
armchairs
. This
one
caught my eye: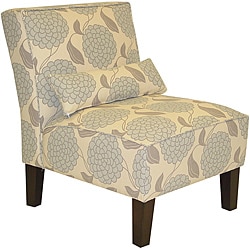 Maybe someday . . . like when I have my own craft room all my own! :o)
I'd also
love
new
home lighting
, like this
chandelier
:
So pretty!
So if you haven't tried
Overstock.com
(or have your eye on something nice), here's a bit of an incentive. A discount!
Just enter code
121745
for 10% off your order (excluding movies, books, and electronics). This coupon code never expires, but can only be used once per e-mail address.
If you're buying electronics, enter code
202234
for free electronic shipping.
Happy shopping!! :o)
All the ideas and opinions expressed are my own. No monetary compensation was received for doing this post, however, I was provided with a discount code.