The
bridal shower
is almost here! Eeeek!! I still feel like I have so much to do, but when I really think about what's left, there's not much to do now. Everything else has to wait for the day before and day of. It's just like me to stress myself out for no reason! :op
Now, when you're having a shower with a theme like "Naughty or Nice", you know you can't just play traditional bridal shower games! Oh there will still be a couple of those . . . but we're putting a twist on the others!
Two of our four games are games everyone has probably played at some shower or another. There's "The M Word" game where you can't say "married", "marry", or "marriage" and if you do and another party-goer hears it, she can take away your clothespin, necklace, whatever (we're using plastic bracelets).
Then there's the ever-trusty "How Well Do You Know the Bride?" Always a good shower game.
Here's where the twist comes in. You know the game where people create wedding dresses out of toilet paper and the bride chooses the best one? Well, instead of playing "Toilet Paper Wedding Dress" we're playing "Toilet Paper Wedding Night"! Teams will have to use toilet paper to create the best nightie or lingerie to win a prize! How naughty!! ;o)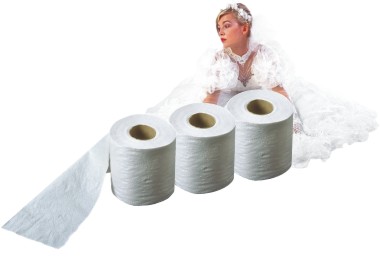 Another "naughty" game we're playing came straight from the adults-only shop (it was my co-hosts idea to go there . . . although they did have some cute stuff). It's "Pin the Junk on the Hunk". I think this one is self-explanatory. I got the censored version. No need to get too dirty! I've also printed out a picture of the groom and cut out his head to stick on the poster. So we're really playing "Pin the Junk on the Groom"!
And for prizes? Well they had to be "naughty"
and
"nice". So we grabbed some "man parts" shaped lollipops at the adult store and then headed to Dollar Tree for some bath stuff (lotion, bath salts, etc).
Any crafty gift-giver knows it's all about the presentation! So I printed out pictures of vintage pin-up girls, applied them to some hot pink bags, and tied them shut with some black ribbon. What do you think?
I really like them! I think they fit perfectly with our theme and are sexy without being nasty!
I can't wait to see what the bride thinks! :o)